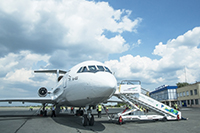 The airport of Kurgan administration would like to enlarge a passenger flow by means of international flights servicing. The management estimates to prepare the required documentation by the end of the next year. The only thing left is to persuade the Russian Border Service Agency into financing the checkpoint arrangement.
The airport of Kurgan administration prognoses to prepare and submit the documents required for the border checkpoint opening to the Russian Border Service Agency by the end of 2015. The corresponding timeframe is indicated in the project Roadmap. The administration representatives hope that the innovation will significantly enlarge a passenger flow. The region authorities thus hope to attract additional investments into the region. Now the matter depends on the authorities' decisiveness: experience says that such projects cost hundreds of millions of rubles in spite of the fact that airports investors spend their own money in the preparatory work, space allotment and the process arrangement.
Roadmap of the Kurgan airport growth developed by the region administration was submitted to Alexey Kokorin, temporarily in charge of the region governor. At the same time a special operating group to supervise over the project was formed in Kurgan. The work has already started, the region authorities have sent all necessary requests to the responsible agencies and the specialists have made calculations upon the passenger flow in the region. In accordance with the document by the 01st of September the project will have been included into the region social economic development strategy. Then specialists of the region economic development department and the Aerofuels investment company will have to make the detailed economic calculations and to formalize substantiation of necessity to open the border checkpoint. In the fourth quarter of the next year it is planned to prepare and to send the checkpoint arrangement proposal to the Russian Border Service Agency. And then the most interesting things will start.