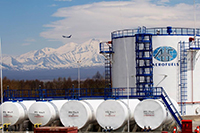 The refuelling complex (TZK) Aerofuels Kamchatka has been successfully operating in Petropavlovsk-Kamchatsky airport for ten years already. This complex was the first in the post-soviet area to have been built "green field" to meet not only Russian but international standards as well. IATA fuel quality pool control inspection (IFQP) awarded the complex a highest status of fuel operations safety level - Green.
"Our complex has been offering refuelling merely for five of ten years. It took first five years to agree upon all necessary documents, to build the complex and to struggle against monopoly as this TZK is an alternative refuelling complex in Yelizovo airport. Therefore, we can be proud that having overcome all obstacles we started working in Kamchatka so successfully to prove our competence and were able to build a positive and effective competitive market" -Vladimir Spiridonov, Aerofuels Group General Director, said.
During operations at aprons TZK Aerofuels Kamchatka served 6 thousand 780 aircrafts, supplied 146 thousand tons of aviation kerosene and delivered 120 thousand tons of petroleum products by the tanker. The company manages Aerofuels Group oil loading fleet to provide fuel not only for TZK in Kamchatka and the island of Kunashir of Sakhalin area, but to supply light petroleum products to the distant northern region.