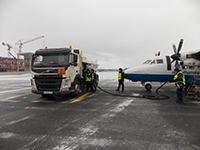 Since January 11th, 2017, AEROFUELS Nizhny Novgorod refueling company has been refueling regular charter flights of Aeroflot airlines at the airport of Strigino (Nizhny Novgorod). Aeroflot is the main air carrier operating via Nizhny Novgorod air hub.
An alternative refueling complex (TZK) belonging to Aerofuels Group of Companies was built in the airport of Strigino in 2014, and since 2015 it has been supplying the Russian and international airlines flights with fuel. Aerofuels Group of Companies invested over 700 million rubles in TZK installation and in creation and development of infrastructure in the airport. TZK is designed for 10900 m3, it obtains a complex of administrative buildings and a refueling station, its own railroad sidetrack and a loading rack, and has all required licenses and certificate of conformity for refueling activity.
Successful operation of the up-to-date and well equipped alternative refueling complex at the airport makes it possible for air carriers to be refueled with a high quality certified jet kero at most profitable prices and to optimize air tickets cost attracting new passengers and, as a result, increasing a passenger flow in the airport.