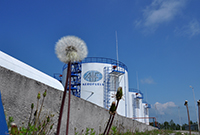 In early May this year in Perm airport IATA Fuel Quality Pool (IFQP) held fuel quality inspection aiming at assessment of the current status in fuel equipment serviceability, as well as procedures of aviation fuels supply and refueling in the airport.
Based on the results of IATA specialists inspection the refueling complex (TZK) Aerofuels-Perm (a member of Aerofuels group) confirmed the highest status of fuel operations safety rate: Green.
The report pointed out that fuel facilities and refueling equipment having been upgraded for the last few years made it possible to ensure an appropriate level of safety. The important positive factor found out by the inspection is actual usage of absolutely new laboratory equipment for the aviation fuels quality control, which guarantees fuel conformance to the requirements of the Russian and international standards and regulations. One of the main targets of the inspection was compliance with regulations of the aviation lines, members of IFQP, requiring a strict control of the refueling complexes.
Aerofuels Perms refueling complex is a part of a network consisting of more than twenty TZK owned by the Group of Companies Aerofuels. It is the alternative TZK operating in the international airport of Perm and it has been working successfully for 15 years already in the competitive environment. Aerofuels Perm offers the whole range of services in jet kero loading, storage and quality control, and in aircraft refueling in Perm. Attractive price terms and high-level quality of refueling enables TZK Aerofuels Perm to serve flights of the leading Russian and international air carriers.