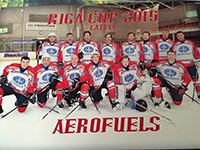 From May 14th to 16th the ice hockey tournament Riga Cup 2015 among nonprofessional teams, now very popular in Europe, was held in Riga.
Founded in 2011 Riga Cup today is one the largest European competitions, and this event is attracting more and more participants every year. For example, last year 13 teams came to Riga, and in May 2015 - 20 teams from 8 countries: Russia, Finland, Sweden, Canada, the USA, Switzerland, Belarus and Latvia. Aerofuels hockey team reached final games in tough struggle – they won 5 times and lost to the experienced team from Sweden Alk Hockey Stars in the final match, having become the silver cup winner.
The Group of Companies Aerofuels would like to congratulate cordially their colleagues and friends on this victory, to wish new success and unforgettable sports celebrations!